So everything got put into garbage, but I feel that this needs to be kept alive so here is the greatest deck profile that ever has been and ever will be created on any forum to ever exist.
You don't know it yet, but this is your favorite deck now. PLiv has his kawaidesu fabled deck and Jack has his trains. However, PSYK0 ain't about that "2stronk4me" playstyle. Nah, PSYK0 is all about that fellowship and jolly cooperation. Here in PSYK0's realm, we strive to achieve perfection in everything troll. I swear to you, this deck will win rated duels for you and it will show your bros just how much of a bro you can be. It is in this duelists opinion that there isn't a thing on this planet more manly and all-powerful than forcing another man to shake your hand.
Lets get into the cards:
DISCLAIMER
I'm only going to explain the cards that are of extreme importance to this deck. Anything not explained can be swapped out for other cards.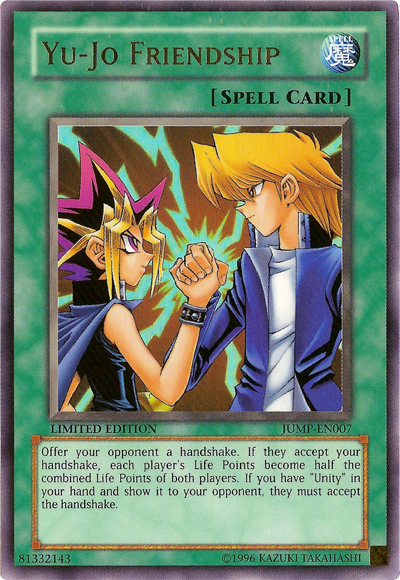 "Make it a your universe speech -Ciphermask, 2014"
Code:

Offer your opponent a handshake. If they accept your handshake, each player's Life Points become half the combined Life Points of both players. If you have "Unity" in your hand and show it to your opponent, they must accept the handshake.
This is obvious. It is your handshake. This is your lifeline in this deck. Don't be held back by someone else's bullshit and fake beliefs. The handshake you choose for yourself, that is the truth of the handshaking.
"BROTHERLY COMBINING!!! -Ciphermask, 2014"
Code:

Select 1 monster on your side of the field. The DEF of the selected monster becomes equal to the combined original DEF of all face-up monsters on your side of the field, until the end of this turn.
This is Yu-Jo's bro. Without this card, your opponent can just be a douche-waffle and say no to your brotherly handshake (*cough cough* PLiv). Make sure you have this before you activate Yu-Jo, just to be safe.
"Proving that once something is gone, it's not always gone for good. Like Kamina -Ciphermask, 2014"
Code:

During your Standby Phase, by paying 300 Life Points, select 1 non-Monster Card in your Graveyard and return it to the bottom of your Deck.
You may be thinking, "Ew, why would you pay 300 life points every Standby Phase just to bring a Spell/Trap back to the bottom of your deck?" and that is why I am here today. Just like how Simon gave everything he had to help his bro, you're going to give up your own soul just to shake your bro's hand again. Without this card, you can never bring back your beloved handshakes from the graveyard (except with Magical Stone, but that's for later). I mean, sometimes this can be a really good scapegoat card if you want your opponent to waste an MST.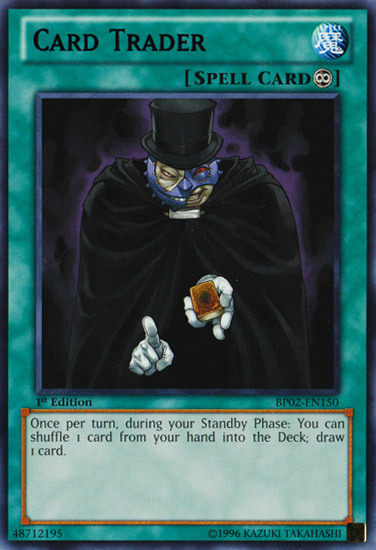 "This card symbolizes the bond between trader and tradee -Ciphermask, 2014"
Code:

Once per turn, during your Standby Phase: You can shuffle 1 card from your hand into the Deck; draw 1 card.
You literally trade one card in your hand for another. This is mostly used for the free shuffle every turn so you have a better chance of getting your handshakes back from the bottom of the deck.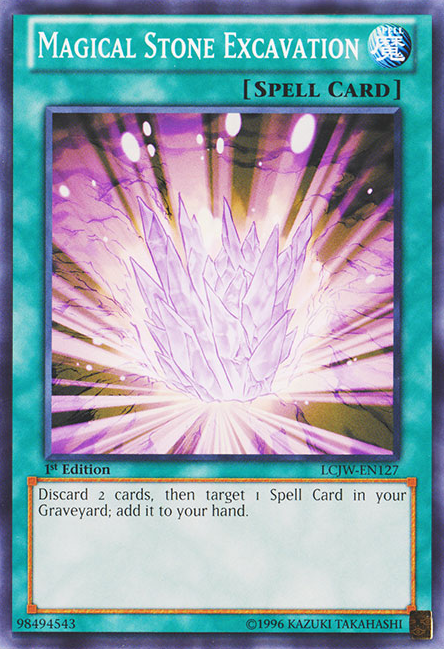 "Giving brotherly friendship a new life and another chance -Ciphermask, 2014"
Code:

Discard 2 cards, then target 1 Spell Card in your Graveyard; add it to your hand.
What could be more brotherly than giving up two of your own cards just for a chance to shake your opponent's hand again? That's right, scrublord, nothing. In the same way that Simon the digger dug up his gunman, Lagann, you can dig up the brotherly love that we all strive to find.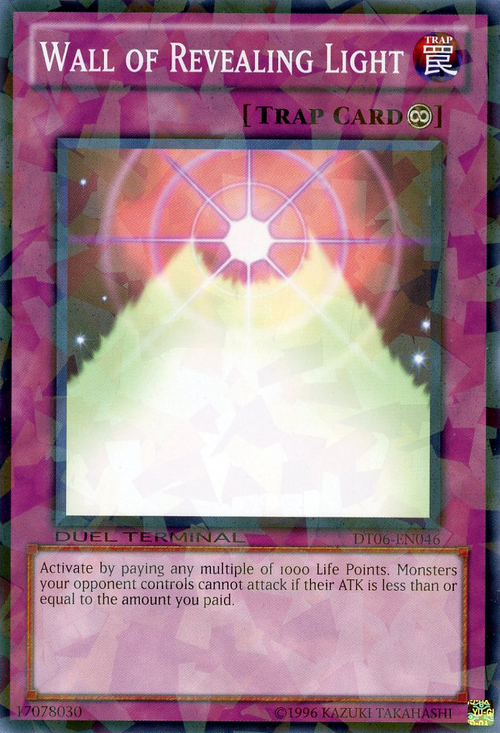 "Give all you want, it'll make the handshake all the sweeter -Ciphermask, 2014"
Code:

Activate by paying any multiple of 1000 Life Points. Monsters your opponent controls cannot attack if their ATK is less than or equal to the amount you paid.
You may think, "Y u use stall card PSYK0?" Again, your ignorance of all things brotherly is showing. Giving up your own life points to defend the bond between yourself and your bro is what this deck is all about. There is nothing else on this planet better at strengthening your manly bond than paying 7000 lifepoints so your bro can't attack your brotherhood. Literally, using this card as soon as possible is the best way. If you have 8000+ LP, you can spend all but 1000 to use Yu-Jo friendship and hit your opponent's LP really hard.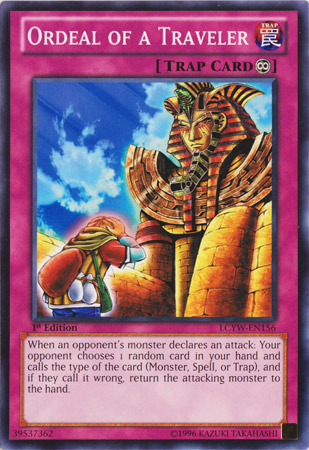 "If they are your bro, they wouldn't attack you blindly -Ciphermask 2014"
Code:

When your opponent's monster declares an attack: Your opponent chooses 1 random card in your hand and calls the type of the card (Monster, Spell, or Trap), and if they call it wrong, return the attacking monster to the hand.
This is a great way to test the telepathic bond you have with your bro. If he guesses wrong, you know that you have to shake his hand more to prove to him that you still care about your brotherly love. This will easily get rid of big monsters your opponent has thrown onto the field to destroy your cooperation.
"You can't buy friendship, but you can buy something to help it -Ciphermask, 2014"
Code:

FLIP: Excavate cards from the top of your Deck until you excavate a Spell/Trap Card. Add that card to your hand, also send the remaining cards to the Graveyard.
Here is the broest bro in this entire deck-that's why he's first on the decklist for monsters. He lies down, on his face, just to be thrown upwards at some point so you can strengthen your manly hand with more brotherly cards.
"His sacrifice will not be in vain, hold those new cards with pride -Ciphermask, 2014"
Code:

When this card is Normal Summoned: You can shuffle 2 cards from your hand into the Deck, then draw 2 cards. When this card is destroyed: Draw 1 card.
This bro willingly goes head-first into battle so you can give yourself more ways to shake your bro's hand. Even in death, he still does everything he can to help your bond by giving you another card.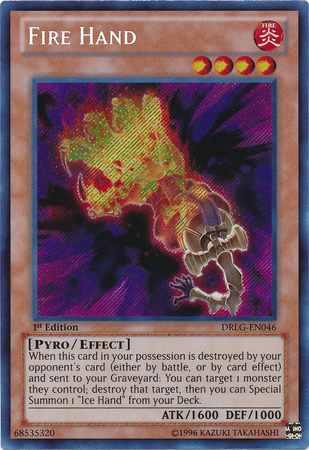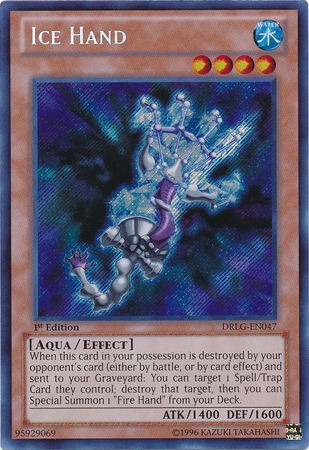 "The ultimate tag team, when one hand falls, another comes right back to shake some hands and touch the booty -Ciphermask, 2014"
Code:

Fire Hand: When this card in your possession is destroyed by your opponent's card (either by battle, or by card effect) and sent to your Graveyard: You can target 1 monster they control; destroy that target, then you can Special Summon 1 "Ice Hand" from your Deck.
Ice Hand:When this card in your possession is destroyed by your opponent's card (either by battle, or by card effect) and sent to your Graveyard: You can target 1 Spell/Trap Card they control; destroy that target, then you can Special Summon 1 "Fire Hand" from your Deck.
THESE TWO CARDS DEFINE THIS DECK. If it isn't obvious, you need to go do more of your jolly cooperation homework. These cards are literally hands and they cooperate with each other exclusively, just like you and your bro.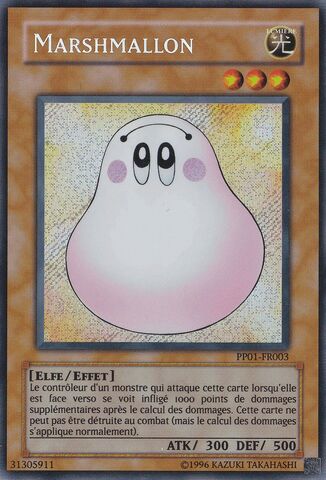 "This card is pure Orange Juice -Cipermask, 2014"
Code:

After damage calculation, if this card was attacked, and was face-down at the start of the Damage Step: The attacking player takes 1000 damage. Cannot be destroyed by battle.
I mean, this is obvious. I did state in the disclaimer that if a card wasn't included that it could be swapped out, so I just had to put it here.
SIDE
Literally useless. This is a deck designed to be played in singles.
EXTRA
I really see no reason to explain the extra deck. You probably aren't going to use it because that would mean getting rid of the manly effects of some of your cards. For that matter, I'll just list what you need:
Leviathan Dragon x1
Mechquipped Angineer x2
Number 34: Terror Byte x2
Grenosaurus x1
Battlecruiser Dianthus x1
Number 20: Giga-Brilliant x1
Castel, The Skyblaster Musketeer x1
Number 101: Silent Honor ARK x2
Number 50: Blackship of Corn x1
Gem-Knight Pearl x1 (the broest xyz in this extra deck)
(two empty slots for other situational cards)
NOTE: Exciton, Ruiner of Friendships is banned from being included in this deck. I'm speaking directly to you, Fluff, don't you do it.
Full deck list:
Yu-Jo Friendship x3
Unity x3
Recycle x3
Card Trader x3
Magical Stone Excavation x2
Level Limit - Area B x3
Gold Sarcophagus x1
Dark Hole x1
Wall of Revealing Light x1
Gravity Bind x3
Ordeal of a Traveler x3
Compulsory Evacuation Device x1
Compulsory Escape Device x2
Magical Merchant x2
Vortex Trooper x3
Dark Resonator x2
Marshmallon x3
Spirit Reaper x1
Fire Hand x3
Ice Hand x3
Extra-in case you missed it earlier:
Leviathan Dragon x1
Mechquipped Angineer x2
Number 34: Terror Byte x2
Grenosaurus x1
Battlecruiser Dianthus x1
Number 20: Giga-Brilliant x1
Castel, The Skyblaster Musketeer x1
Number 101: Silent Honor ARK x2
Number 50: Blackship of Corn x1
Gem-Knight Pearl x1
(two empty slots for other situational cards)
_________________

Click if you dare:

And yes, it is

SEXUAL






Posts

: 1128

---

DA Record

: 7-0-7

---

SA Record

: 0-0-0

---

Reputation

: 9

---

Age

: 22

---

Location

: The U.S. of A.!

---



I'm in love!

Best Deck and explanation i've seen EVER! Let the Bromance begin <3

_________________

Song of da 2* week



Posts

: 173

---

DA Record

: 0-0-1

---

SA Record

: 0-0-0

---

Reputation

: 2

---

Age

: 22

---

Location

: Manchester, England

---






Posts

: 18

---

DA Record

: 0-0-0

---

SA Record

: 0-0-0

---

Reputation

: 3

---





Similar topics
---
Permissions in this forum:
You
cannot
reply to topics in this forum